PRIMERS
There are many primers avaiable for different uses.
Here you will find a list of our 2k Primer Kits, Etch Primer & Cellulose Primer.
---
HB BODY PRO P334 PRIMER KIT
Kit includes 4 litres of primer and 1 litre hardener
Suitable for original or old paint work

Ideal for unsanded OEM Panels

For Partial and Full automotive refinishes

A high quality acrylic – filling – sealing primer

Due to its high filling power and vertical stability, higher film thickness is possible

Fast drying.

Mixing Ratio 4:1
HB BODY AUTO PRIMER 534 4:1 2K HS PRIMER KIT
2 sizes available:

1 litre 534 2k Primer & 250 ml 534 Hardener

4 litre 534 2k Primer & 1 litre 534 Hardener

 2K Acrylic system sanding primer

 Excellent filling properties & adhesion to all metals and plastic bumpers

Easy to sand & Excellent mechanical properties

MIXING RATIO 4:1
Prospray A700 Easy Sand Primer Kit
Available in 2 Sizes:

1 litre A-700 Primer & 500ml 802 Activator

3.7

5 litre A-700 Primer & 1 litre 802 Activator

H.S. Extra Build / Easy Sand Primer 2-component acrylic urethane primer

Offers excellent build, easy sanding, great colour holdout and versatile use (high-solids or regular build mixing option).

Available in shades of Grey & White

Mixing Ratio 4:1 & 10-15% thinners
PROSPRAY A-514 2K ETCH PRIMER KIT
Kit Contains 1 Litre A-514 Etch Primer & 1 litre A516 Activator
A-514 Chromate Free Etch Primer is a fast-drying 2K etch primer.

can be applied direct to bare metal

provides excellent adhesion and corrosion protection. 

Use on spot, panel and overall repairs.

Mixing Ratio 1:1 with A516 Etch Primer Activator
HB BODY 960 WASH PRIMER KIT
Kit Includes 1 litre 960 Was Primer & 1 litre 960 Activator
Excellent 2K yellow primer

suitable primarily to be applied over aluminium, galvanised, stainless steel and zinc coated surfaces.

Mix 1:1 with hardener HB BODY 960 Activator.

Dries within 10min approx

Does not require sanding

Overcoatable by any primer paint system, (except those that are polyester based, polyester materials can not be hardened).
---
1K ETCH PRIMER – GREY
Available in any quantity starting from 1 litres.

Fast drying, easy to sand Etch Primer

Provides outstanding adhesion to metal substrates and excellent non-sand performance.

Suitable for aluminum surfaces

For use on spot repairs or complete refinishing of metal substrates.

Etch Primer can be applied to most suitably prepared surfaces, including treated galvanise.




---
UPOL CELLULOSE P88 PRIMER-GREY
P88 is a fast drying, high build cellulose primer.

It is designed to fill surface scratched or similarly defective metal, stone chip damage, polyester body filler, glass fibre mouldings and most factory or refinish paint systems except air dried synthetics.

P88 is supplied ready for use.

It will flat easily to a feathered finish and can be used as a primer under cellulose, 2 pack acrylic and synthetic top coats.

Available in 1 litres, 2.5 litres & 5 litres.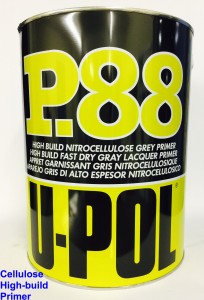 ---
SPEEDBUILD 3 PRIMER
A 1K synthetic , high build, high solids, anti-corrosive primer. It combines a long wet edge time with quick drying and can be over coated with either 1K or 2K topcoats. Suitable for steel.  Available in the following colours: Off White, Grey/Black, Light Grey, Blue and Buff Primer. Available in 1 litres, 2.5 litres & 5 litres.
HEMPEL PRIMER
1K Synthetic Primer. Brush Applied. Available in Grey & Red oxide.