PROMATIC AEROSOL RANGE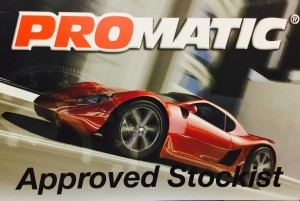 We have a variety of Aerosols available. Below you will find listed our Promatic Range. Promatic topcoats, various primers for different materials, stone chips, bumper sprays, Clear lacquer,Cavity wax, Guide coat, Spray Putty, Underbody shutz, High Temperature Aerosols and Chrome Spray.
All technical and safety data sheets can be found if you click here 
---
Promatic Topcoat Aerosols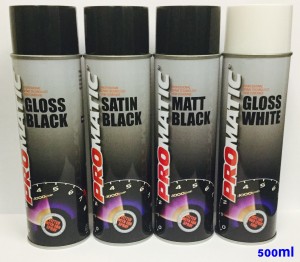 Gloss Black, Satin Black, Matt Black & Gloss White
Suitable for internal and external use Weather and UV resistant. Scratch and impact resistant . Excellent surface hardness and good elasticity. Comes in Gloss Black, Satin Black, Matt Black & Gloss White. 500 ml Aerosols.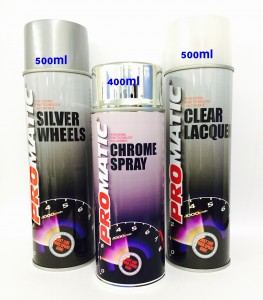 Silver Wheels
For use on steel and aluminium rims and hub caps. High quality fast drying acrylic wheel paint. Weather and UV Resistant with good colour and gloss retention.
Chrome Spray
Fast Drying, Chrome effect spray. Can be applied to suitably prepared metal and plastics.
Clear Lacquer
High quality. Scratch resistant. Fast drying gloss clear coat. suitable for overcoating water and solvent based base coats. For internal and external use. Weather & UV Resistant. Provides excellent surface hardness. Good elasticity which can be mechanically polished.
---
Promatic Primers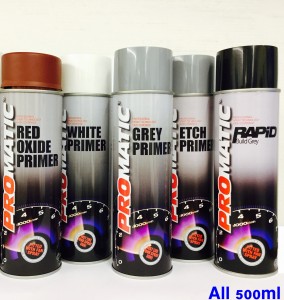 Red Oxide Primer, White Primer & Grey Primer
Fast Drying. Good coverage. Adheres to Wood, Metal, Aluminium & More.
Etch Primer
Fast Drying. Excellent adhesion to those more difficult substrates, including aluminium & Galvanised Steel. Fully cured primer. Has a smooth, non-porous 'weld-thru' finish.
Rapid Build Grey Primer
Outstanding one component Primer filler.  Provides good filling properties. Active protection against corrosion. Suitable for minor repairs and surfaces which have been partially sanded.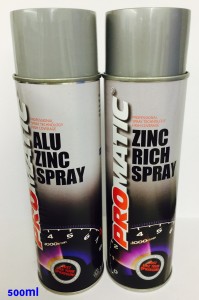 Alu Zinc Spray
Fast Drying , high quality 'weld-thru' bright zinc primer. Suitable for repairing damaged galvanised steel. Resistant to petrol, chemicals & heat up to 250°c.
Zinc Rich Spray
High quality, 90% Zinc Rich Primer. Provides outstanding cathodic corrosion protection for all bare metals. Resistant to petrol, chemicals & Heat up to 350°c.
---
Promatic Preparation Aerosols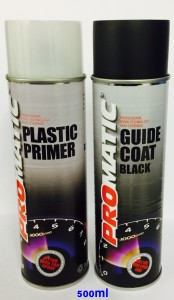 Plastic Primer
 Very fast drying, Transparent & Flexible.Can be over coated with any primer or topcoat. Clear adhesion promoter for substrates such as ABS, PP, PVC and other automotive plastics.
Guide Coat
High quality acrylic paint. Fast drying. Used to detect pores, cracks and uneven areas and sanding marks after application of putty or filler. Even application and reliable results guaranteed due to the very fine atomisation.
---
High Temperature Aerosols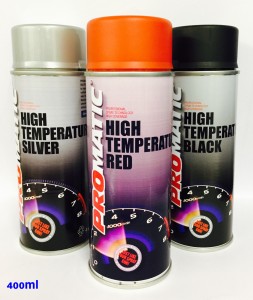 400ml Aerosols. Good Spray properties. Fast drying times. Excellent adhesion. Three colours : Red, Silver & Black. Silver & Black high temp aerosols resistant to temperatures of up to 800ºC Red high temp Aerosol is resistant to temperatures of up to 300°C.
---
Stone Chip Aerosols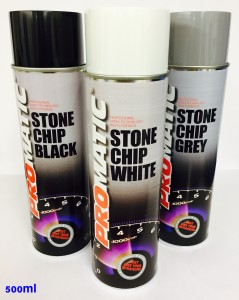 Three colours to choose from: Black, White & Grey. Provides excellent corrosion protection for parts, such as visible undersides, that are prone to stone chips and corrosion. Overcoatable and long lasting.
---
Bumper Spray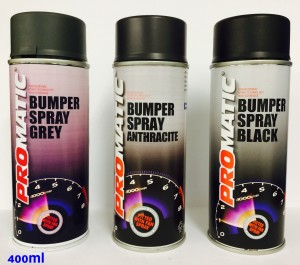 For interior and Exterior plastic components, such as bumpers and plastic trims. Excellent coverage and adhesion. Easy to apply. Fast drying, Provides a coloured, scratch resistant finish. Can be applied onto most plastics. Three colours: Grey, Anthracite (which is a darker grey) and Black.
---
Underbody Aerosols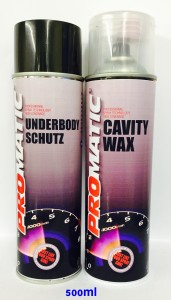 Underbody Schutz
Bitumen based product, providing good corrosion resistance with an elastic, weatherproof durable coating. Ideal for the underside of vehicles and wheel arches.
Cavity Wax 
Effective corrosion protection to vehicle cavities that are susceptible to rusting, such as: door pillars, door skins, engine compartments, bonnets etc. excellent water repellent properties. Clear film is self regenerating providing on going protection