PRO XL AEROSOL SYSTEM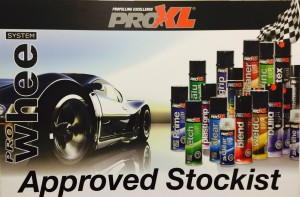 ProXL is a professional range of coatings developed to provide a total product system that will increase productivity, without compromising on quality.
TECHNICAL AND SAFETY DATA SHEET CAN BE FOUND IF YOU CLICK HERE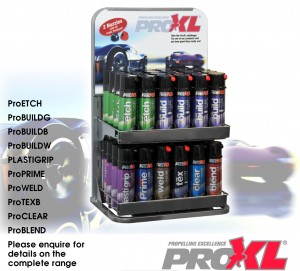 Preparation
Plastigrip:- Advanced adhesion promoter for most types of plastics. Can be over coated with topcoat after just 30 minutes. 
Primers
ProEtch:– An Etch Primer that gives the ultimate adhesion direct onto many difficult substrates, including alloy, stainless steel, zintec and galvanise.
ProWeld:- A zinc aluminium welding primer. suitable for repairing damaged galvanising. Excellent adhesion and outstanding corrosion protection. Resistant to high temperatures, petrol chemicals and weather influences. Compatible with SPOT, MIG and TIG welding methods.
ProZinc:– Provides excellent adhesion and corrosion provention. Quick drying. High adhesion on zinc coated surfaces.
ProAlu:- High adhesion to aluminium surfaces and protecting against corrosion. Fast Drying.
Primers/Fillers
ProBuild:- Primer surfacer combining ultra high filling properties with very quick drying times. Excellent smooth finish. Can be sanded very easily. Suitable for any topcoat.
ProPrime:- High build flexible primer filler. Ideally suited for most plastic and metal substrates. Drying times of 5-15 minutes per coat. Highly flexible. 
Lacquers
ProClear / ProSatin / ProMatt

:- High performance 1K lacquer. Gives a crystal clear finish. Ideal for smart repairs.  UV and petrol resistant. Fast Drying.
Pro2KClear:- Superior high gloss with a crystal clear finish that has high gloss retention. Easy to activate. Very scratch resistant. Gives a spray gun finish every time.
Finishing
ProBlend:– Technically advanced blending clear that disolves the edges of clear coats and solid colours resulting in the perfect finish. Can be used with HS and MS coatings. Ideal for smart repairs. Providing excellent fade out with the outstanding blend out thinner.